Celebs Who Moonlight Flipping Houses Shop Looks Inspired by the Stars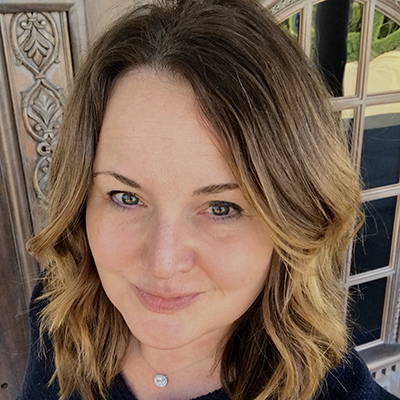 By Amy Williams – East Coast Sales Manager – White River Hardwoods
Diane Keaton, star of Annie Hall, The Godfather and Something's Gotta Give, has a long history of flipping houses and is well known for restoring architecturally significant homes to preserve their integrity. She's successfully remodeled structures from one of the oldest Adobes in Tucson's historic Barrio Viejo district and a Spanish-style home she flipped to Madonna, to her current 1926 Spanish Colonial Style residence in Beverly Hills, which she's published a book about, titled "The House That Pinterest Built." Keaton also has not one, but two homes designed by Lloyd Wright, son of Frank Lloyd Wright to her flipping credits.   One of her most talked-about flips is Wright's Mayan-Revival home, commissioned in 1928 by Ben Hur star Ramon Novarro for his secretary Louis Samuel.  
In 1996 Keaton poured a reported $1 million in to the first renovation and then sold it. After more than a decade of neglect, she was invited by a construction company to offer her advice on the second badly needed restoration. She recommended that they go slow, and not treat it like a regular renovation, don't change more than required, and keep the house the way Wright intended.  
Have a block party and discover interior décor possibilities using hand cast stone wall panels. Made in America for over 25 years, Concretus is the authorized licensed manufacturer for these Frank Lloyd Wright tiles. These are adapted from the "California Textile Block" patterns for cast concrete construction blocks Wright created for buildings in Southern California in the early 1920's. Contact 800-558-0119 for more details and information about pierced tiles:
---
Rock 'n' Roll Hall of Fame Legend, and iconic lead guitarist for Fleetwood Mac, Lindsey Buckingham, with his wife Kristen, built a Colonial-inspired estate in Brentwood, CA. They created a true celebrity sprawling compound, adorned with old world Classical and traditional interiors, blended with a few modern luxuries. Kristen, who happens to be a professional interior designer, handled the décor details and added some recent remodeling touches. This house has everything from wood paneled ceilings, wall panels embellished with mouldings, a contemporary farmhouse kitchen and of course, all the rock star pad amenities like a recording studio and spa. The Buckinghams are going to "go their own way" now and they're hoping to flip this house for an estimated whopping $22.5 million! Features to love about this house are rooms full of wood-paneling, built-ins, walls of French doors and beautifully cased large windows.
Shop this look of wood panels for the ceiling or walls & floating shelf systems for the kitchen: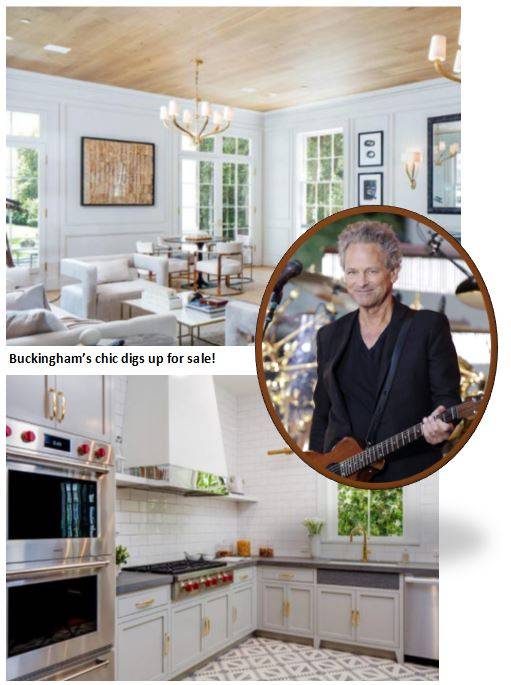 ---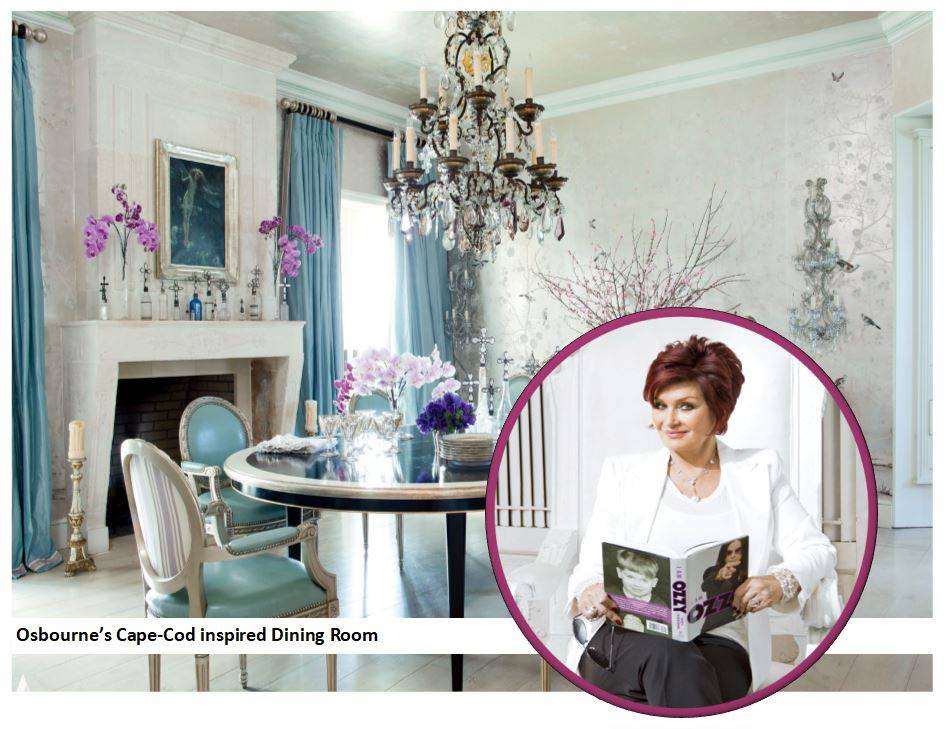 Sharon Osbourne is wife, mother, entertainment manager maven, reality TV legend, talk-show-host, and cancer survivor, but one thing most people may not know about her is that she flips houses in her spare time and makes a killing. Flipping is no "Shot in the Dark" for Sharon, in fact, in 2017 she produced and hosted an original television special, "Sharon Flipping Osbourne," on WE TV network. The program followed Sharon as she remodeled a couple's home using her own money and expertise. She hired a team of contractors, decorators, and her favorite realtor to renovate and list their home. In the end, when they got the offer they desired, she split the profits with them. What a bargain! Recently it came time for her and husband Ozzy, heavy metal front man for Black Sabbath, to decorate their new home, and she recruited celeb designer, Martyn Lawrence-Bullard, for direction. Martyn helped shed some light for Sharon and her "Prince of Darkness" hubby by going with a Cape Cod-Inspired theme, a dramatic twist from their previous Contemporary English Goth décor. The Osbournes recently flipped this house to popstar and fashion designer, Jessica Simpson. Features to love are the clean lines, bold base boards and pronounced crown mouldings.
---
Former Hip-Hop and Rap star, Rob Van Winkle, a.k.a. "Vanilla Ice," has made a comeback as a prolific Florida flipper and the star of DIY Network's show, The Vanilla Ice Project.   Rob's been a longtime carpenter and real estate investor, who is epic at gutting foreclosures and rehabbing them the old-fashioned way. Instead of destroying sets on MTV, he's reviving homes and giving them a warm and cozy feeling by looking at pictures for inspiration and then putting his own handiwork to it. Although he's got a flair for refitting houses with over-the-top features, like a jelly fish tank, neon lights and whimsical murals, he also has an eye for the traditional details and often adds texture with decorative ceiling panels and millwork accents. Features to love about his style are, how he finds a way to sneak in appropriate traditional millwork with the showy contemporary themes. This adds an atmosphere of timelessness while keeping it ever so cool! Nice, nice, baby! Keep pumping out the flips!
If you've got a room that is too "vanilla," shop items that will add a little flavor. See ceiling medallions, corbels for bars and more!