3 Reasons Why Transitional Style Gives a Home a Winning Personality: How One Contemporary, High-Rise Condo Owner Pulled It Off!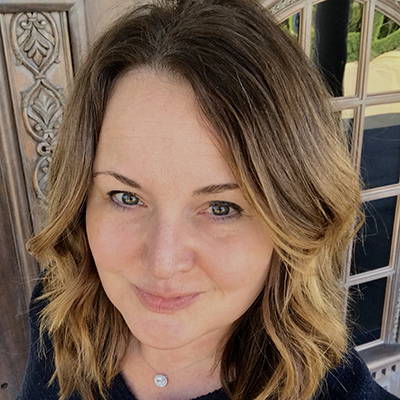 By Amy Williams, Sales Manager, White River Hardwoods
Transitional Design is the latest trend in taking modern clean-lined structures and blending in a few traditional elements, such as wainscoting, chair rail, or even elaborate door surrounds. Why should we care? Because it's the hottest craze in interior décor! This combo style of "mod meets mouldings" gives builders, decorators, and homeowners alike, the best of both worlds. Establishing two styles in one space is en vogue, inviting, and ingenious!
Here are 3 reasons why Transitional Style is a winner:
Transitional Design has a broad appeal and is attractive to all age groups. This is good news for home builders and interior designers because it has a little something for everyone and it is an affordable way to offer the end consumer something more interesting than flat stock and 1 X 4's with a lacquered finish. It gives an impression of quality, stability and a viewpoint of high value.
For dwellers, it's décor everyone can agree on. This modern hybrid look of classic and contemporary elements gives the homeowner a simplistic modern pallet with warm touches of wall or ceiling treatments, offering a "livable" ambiance. Not only does it add mood and character to the spaces, but it lends itself to being versatile with individuals' accessorizing styles.  
It's a simple way for a designer or homeowner to transform their avant-garde style home and reclaim their Tradition by simply adding a few millwork touches. Introducing a little bit of millwork to a bare interior, punches it up a notch and simply adorns a plain space with a big, warm and fuzzy welcome!
Over the past decade, homes have been built in a more contemporary style, with basic to little interior millwork. But now, White River is seeing a significant increase in clients who find themselves living in these basic style homes and asking themselves, "where'd all the mouldings go?" White River recently had the pleasure of working with a client in the same predicament -- The Gilberts of Orlando, Florida, a great example of a Transitional Style make-over success story: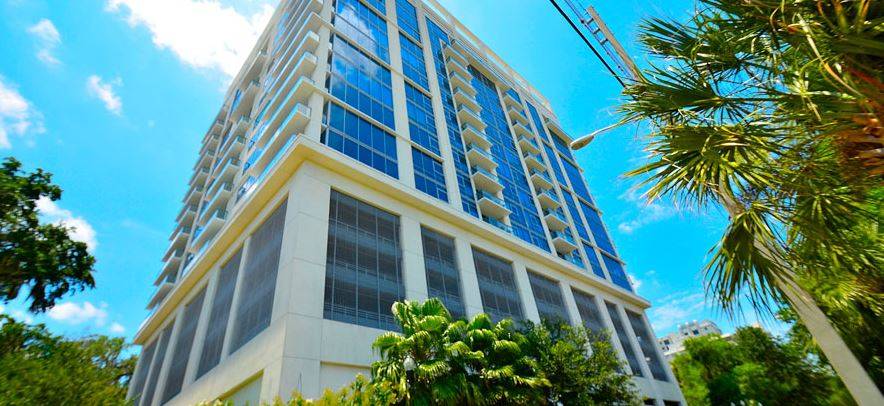 The Gilberts had previously lived in homes of a variety of style. They ranged from a restored 1845 Federal style home in Massachusetts with massive crown moulding, balusters and columns, to traditional Colorado home with oak wainscot and built-in cabinetry, to a Southwest-style stucco home in Arizona that even had baseboards and crown mouldings. So, now in their present life's adventure, they find themselves living in a very modern style high-rise condominium, overlooking the bay in Orlando, Florida. They had an amazing view, fantastic weather, and a spacious living area, but they needed something to make it feel more like "home."
Mrs. Gilbert explains, "We would show off our condo with pride, with exception of the trim. As we started to make upgrades to our unit, we recognized that all the other upgrades were good, but not as gratifying as improving the trim would be for our overall satisfaction of our home's decor. It was time to think about trim."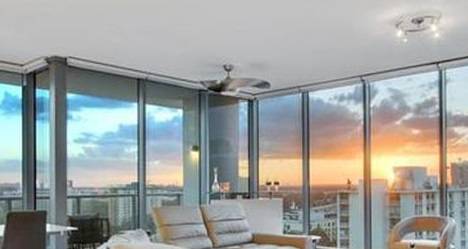 In May of 2018, the Gilberts began searching for interior trim at their local building supply stores, however most of the trim they found, in their opinion, was only fair quality and not made of wood, which was their criteria. This frustration led them to an internet excursion in search of a product they would want to install, and they stumbled across White River Hardwoods.
"I looked through the website and became excited at the extensive product line, and I filled out one of the Design Services inquiry forms for more information. I received the nicest reply from White River, asking if I would like more information. I took this as a sign. My main concern was the "how?" of purchasing product from Arkansas. With White River's encouragement, I sent photos of our "inspiration" ideas for the type of trim we wanted."
White River offered the Gilberts some initial feedback with trace-over sketches. This first step in White River's approach to Design Services helps establish a firm direction on the design, as well as suggestions of how to incorporate millwork into their existing structures, so they can visualize the possibilities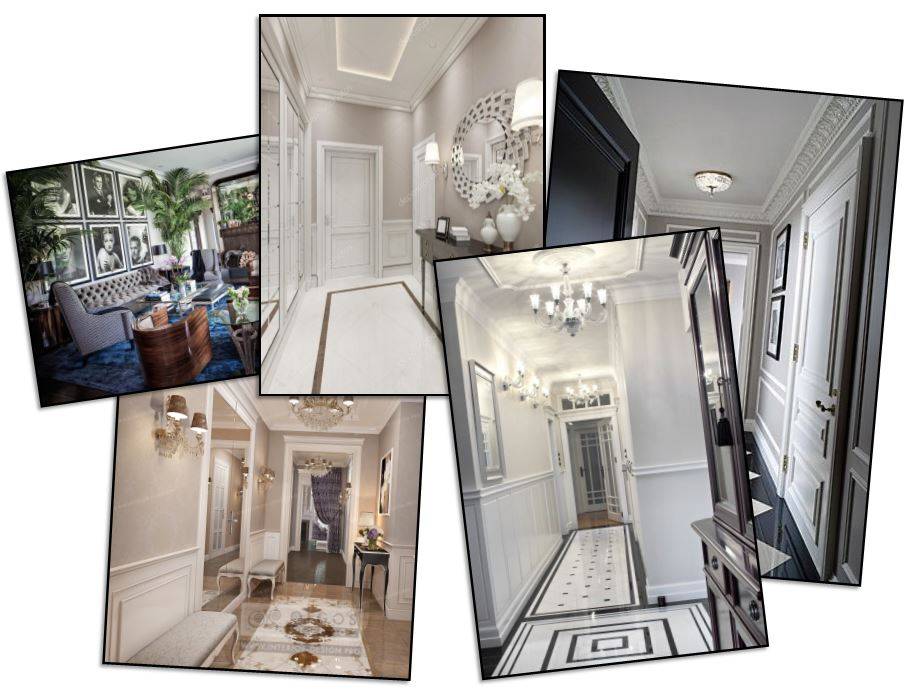 Gilbert's Inspiration Images
"We were concerned that the decorative trim could be a detraction from the more modern austere trim we were living with. When the process had moved along to the point that we would go ahead and utilize White River's Design Services, we were more confident that decorative trim was exactly what we wanted to install."
White River's owner and Head of Design, Joan Johnson, took the lead on this project. She started by constructing several mock-ups with moulding samples and steering the Gilberts toward their vision. Once profiles were selected, elevations were drawn up in CAD to scale.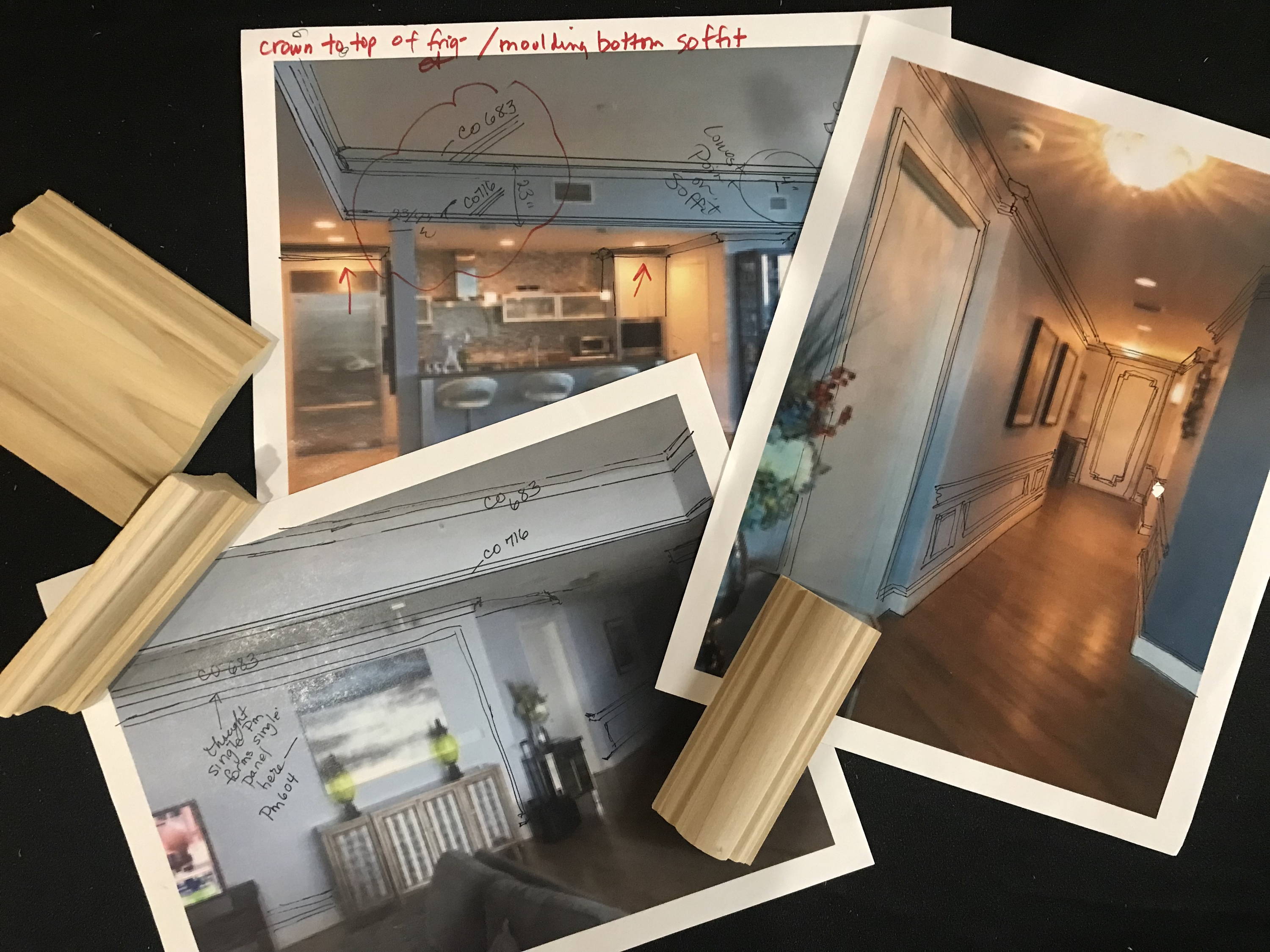 Sketch over design concepts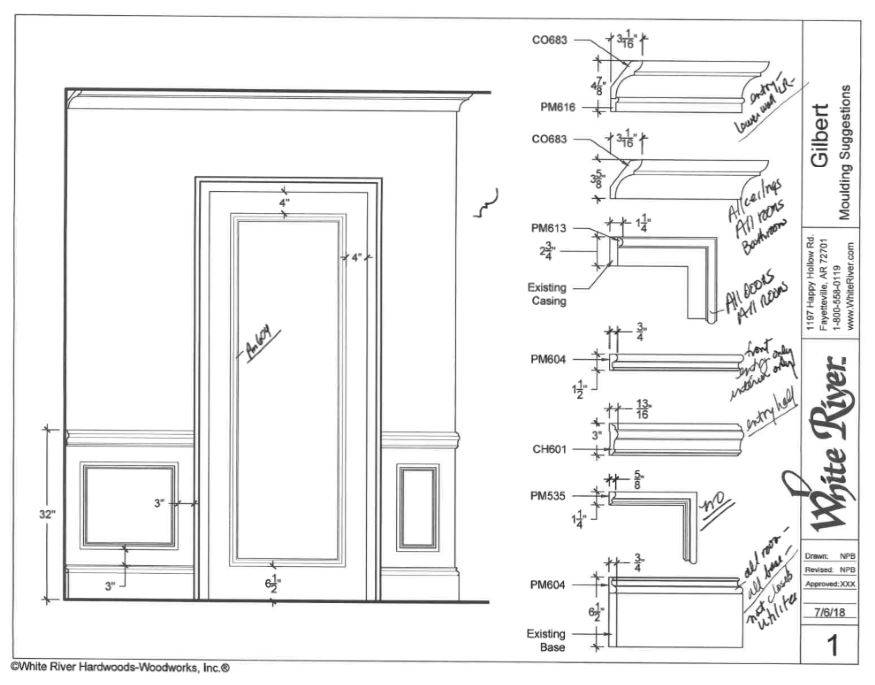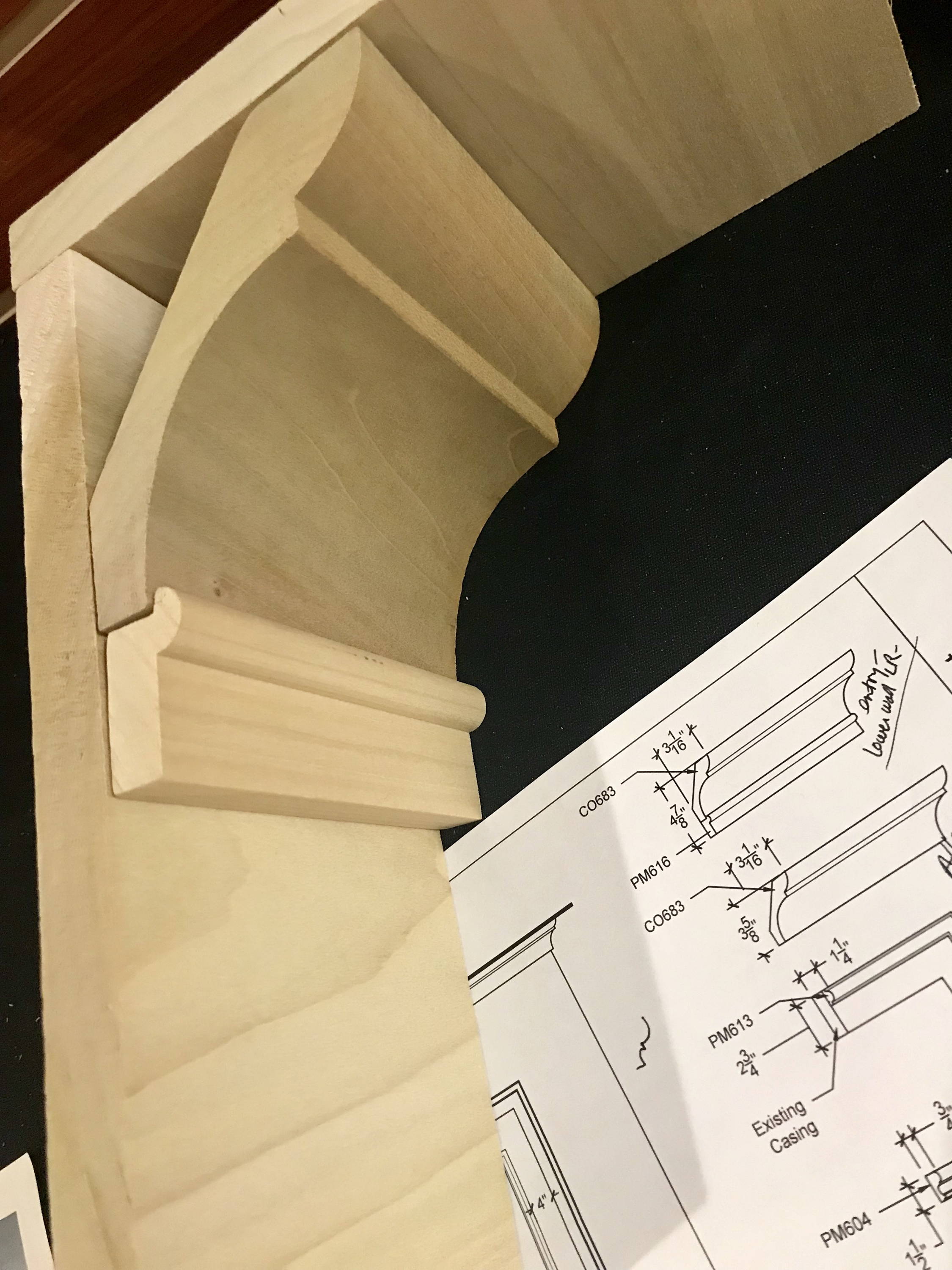 "We placed our order, the trim was delivered, and then the magic happened. The four hundred pounds of planks that had been sitting on my living room floor became wonderful adornment for the walls.
 In phase one, we did a two-part crown muolding, a two-part enhancement to the baseboard, and a chair rail in the entry hall. The first phase installment was not even finished when my husband I both knew we wanted to add even more. So, we got back together with Joan, and we planned out phase two. In phase two, we added decorative wall molding, and we trimmed out more of the door frames.
The first thing I told Joan, when she took our project on was when my guests arrive and see the beautiful trim in the foyer and hallway, I want the first comment to be "WOW!" I will report that each neighbor, friend, or family member, who has stepped into our foyer has breathlessly said "WOW!" To me, that response is evidence that we accomplished our "WOW factor" and gives us confidence enough to quit worrying about going too traditional in a contemporary high rise, and about the cost to install quality and lasting beauty."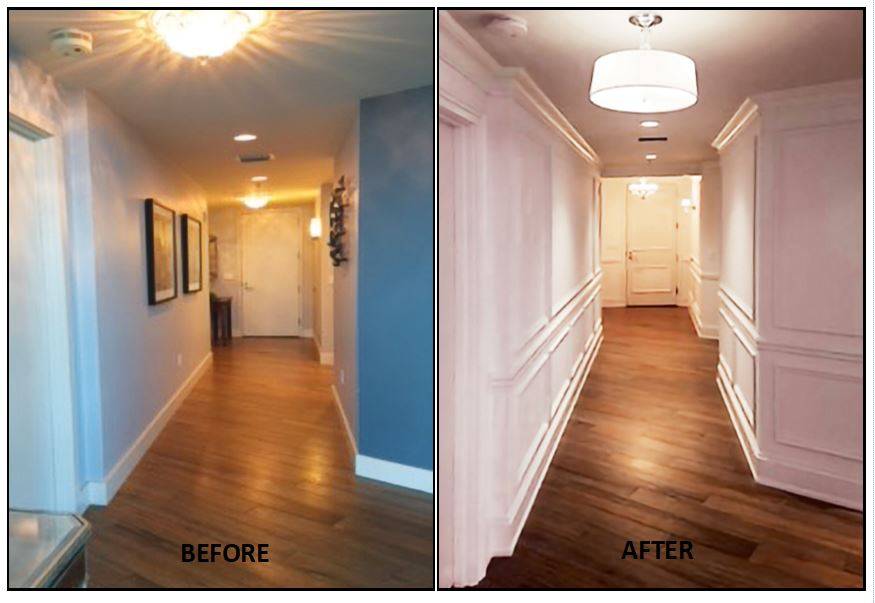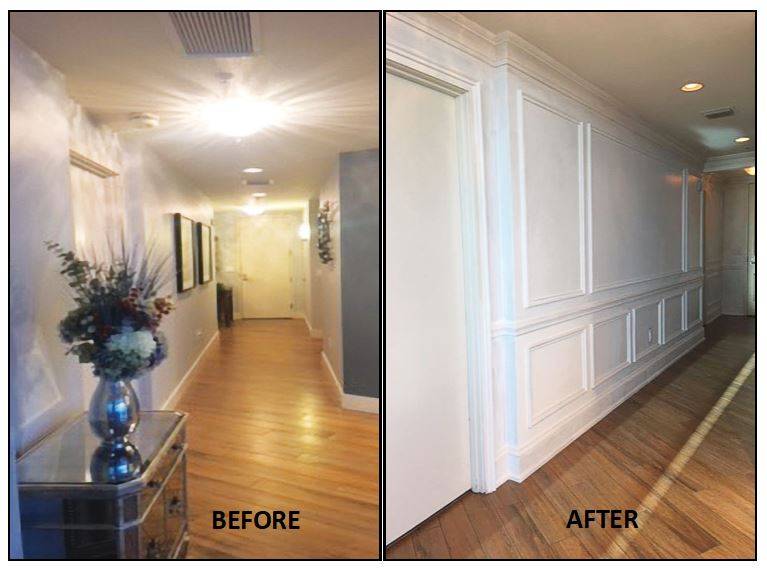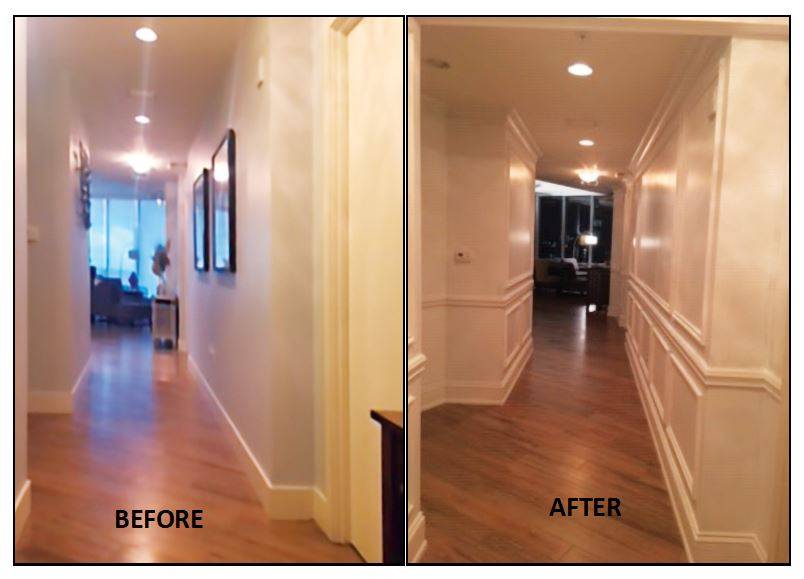 The Gilberts didn't stop there -– they charged forward with Phase Three! They added a drop-down ceiling and new lighting in the living room, and continued the crown on into the living and dining spaces.
"Joan, I recall when we needed counseling you were spot on with your suggestions. Thank you. You are one person who I trust and know who is invested in this project as I am, and that's fun to share. Thank you for your enthusiasm for our project and your guidance to make it great.
 I look back on this project and I just smile. I smile to think that we were lucky enough to have found White River and their products. I love how beautiful, classy, dignified and how timeless our trim install looks. I smile because we needed to see the project evolve from our concept of minimal trim touches to the grandeur and grace of a full installation."
The Gilberts report that they are now planning Phase Four - - The Kitchen!