Classically Inspired Great Room for the Contemporary Oklahoma Family
A recent project completed using White River's products and Design Services is the Mueggenborg Residence in Yale, OK. One of the most impressive moments in the home is the Great Room. A 19" tall crown detail visually lifts the ceiling using our Traditional (unornamented) mouldings. In the tradition of Classical architecture, this crown detail is an entablature with a tripartite composition:
At the top of the architrave is our CO716 light cove. Light from this cove washes the entirety of the remaining entablature.

The frieze is a simple DS1x10.

This is then surmounted by the cornice, composed of panel moulds and our CO670 cove, which then reaches out onto the ceiling with a DS1x6 and our PM622 at its termination. The visual upward spring from the CO670 is accentuated by the uplighting, creating the ceiling lift.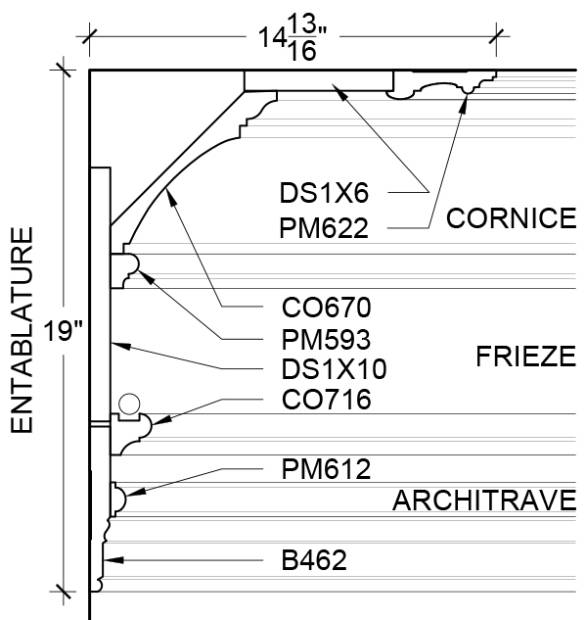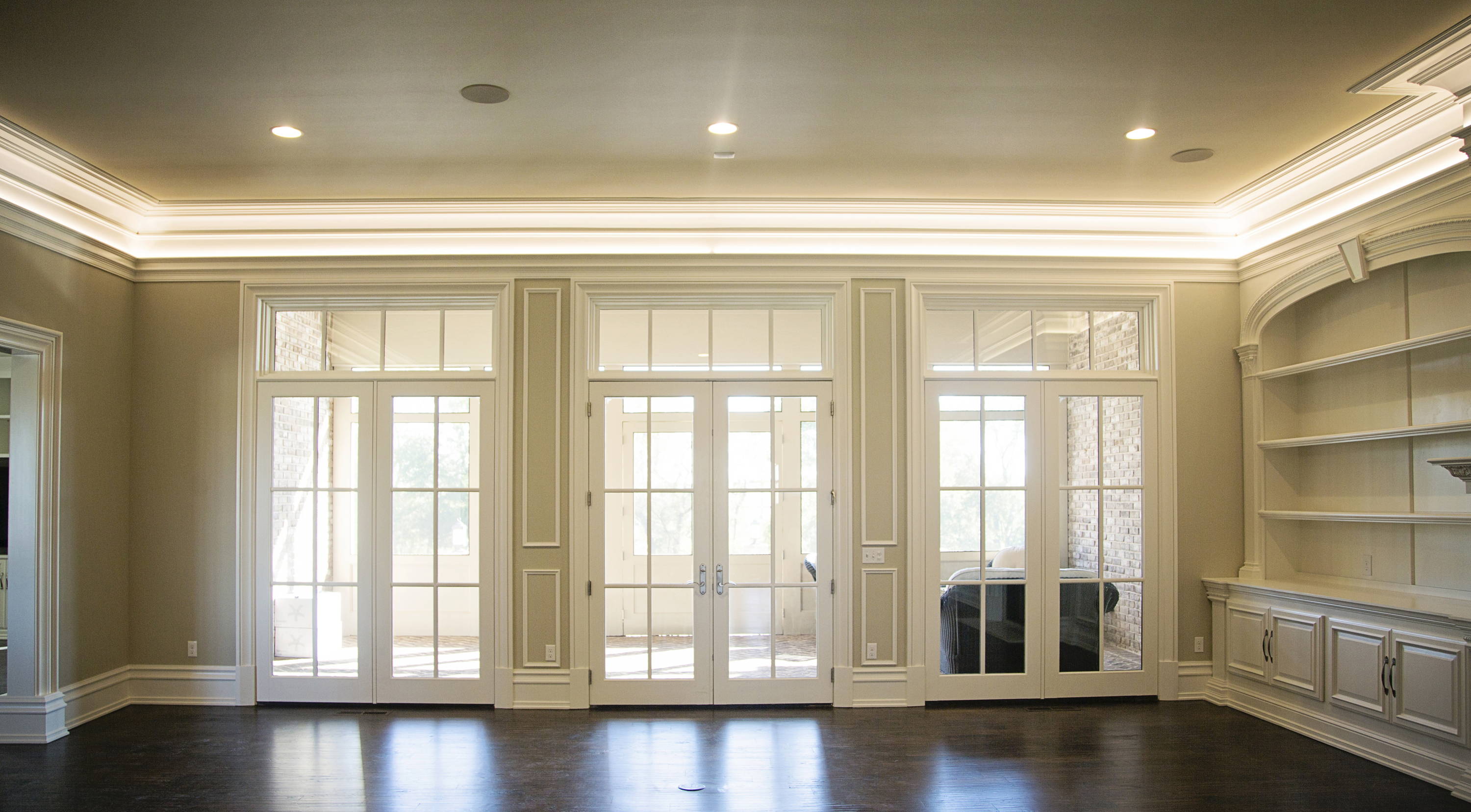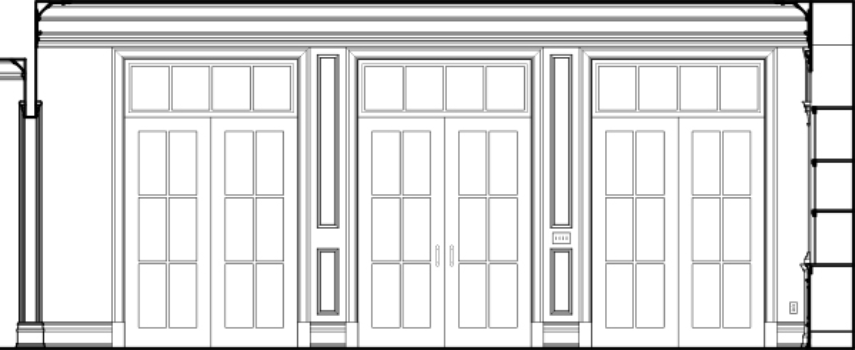 On the South wall are three sets of glazed double doors with transom lights, all of which are visually linked by six narrow panels formed using our PM610 panel mould.
What is probably the best moment in the room is the cabinetry and mantel wall. Two identical sets of cabinetry flank the fireplace, each having a set of cabinets below and open shelving above. The cabinet doors are clad in concentric rings of panel moulds at the edges of the panels. These banks of cabinets form pedestals for the smooth pilasters which flank the open shelving. Each pilaster employs a CRV5132 attic base and a CRV5131 handcarved acanthus capital. These pilasters visually support the two elliptical arches which span the openings of the shelves. The arches are composed of a Traditional casing wrapped by our Mon Reale BB8101, an egg and dart backband, and finally, a custom key punctuates the center of each arch.
The fireplace protrudes slightly in front of the cabinetry, bringing the mantel onto center stage. Two large beveled plynths act as the intersection between the room's baseboard, a DS1x8 with PM529 shoe and PM622 cap, and the vertical legs of the mantel. From the outer edges of dimensional stock, mouldings on the face of the mantel recede inward toward the firebox, with a moment of pause using flatstock, another step in using our CR810 crown, and finally, an inner ring of ornament using our PM8535 egg and dart panel mould.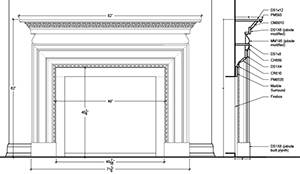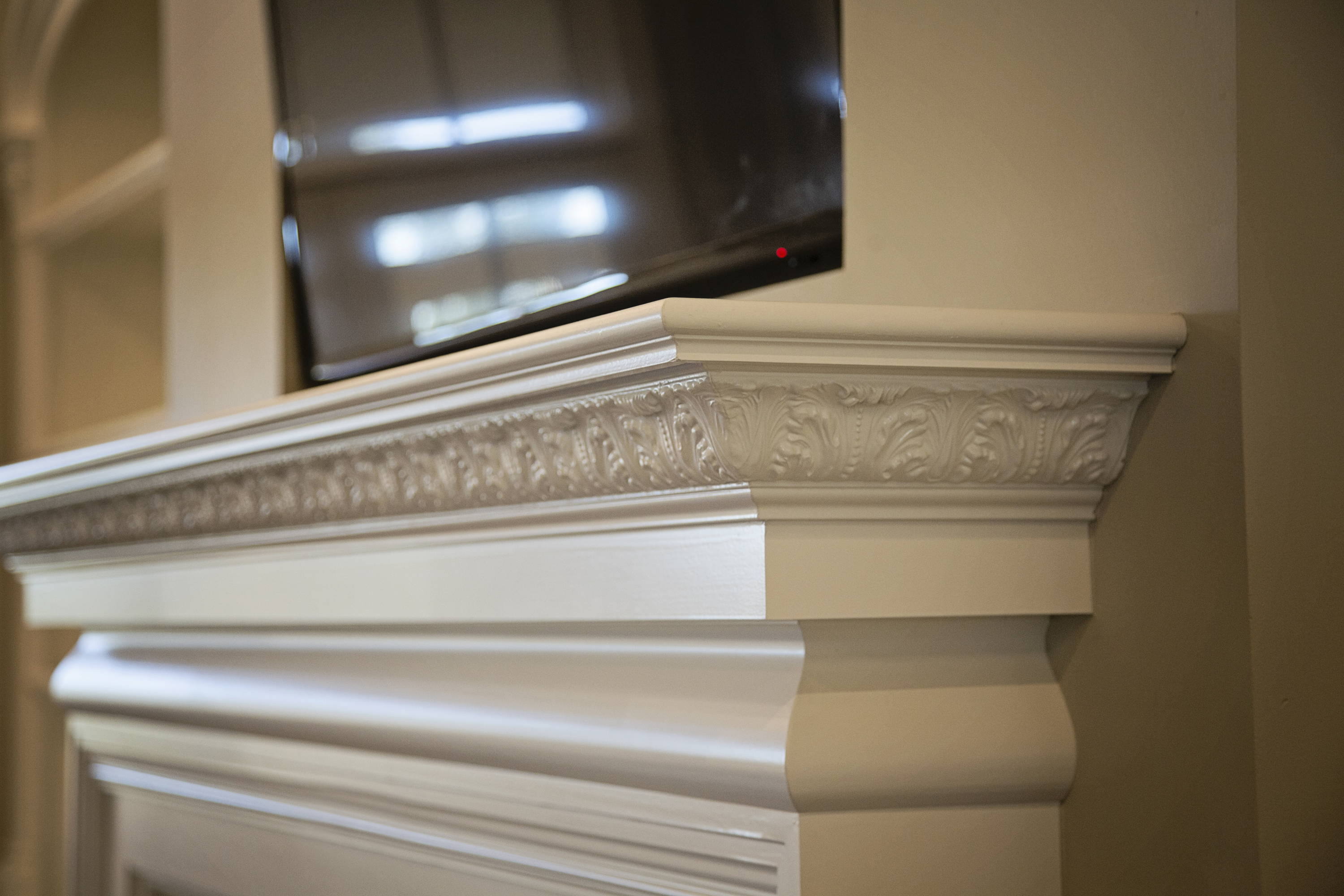 This combination of Classical elements, smooth Traditional mouldings, and with a touch of Classical ornamentation from our Mon Reale collection, led to a classic and refined home that also feels warm and comfortable for the modern lifestyle.
Author: Stewart Morgan