2018 Photo Contest Entries
The competition has been extended to Sept 30th, 2018 so you don't have long to get your entries submitted.
Email us your photos to marketing@whiteriver.com. Photos must be at least 500KB and in JPEG or TIFF format. Tell us a little about the project. Our followers love learning the story behind your dream project. The more details the better.
GRAND PRIZE: $250 GIFT CARD
SECOND PRIZE: APPLE TV 4K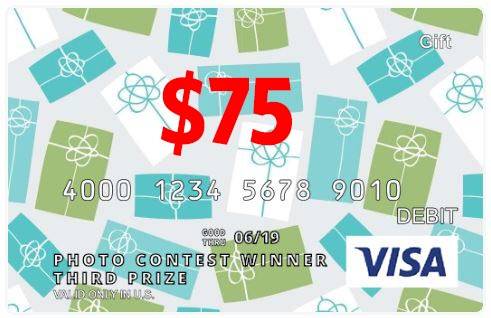 THIRD PRIZE $75 GIFT CARD
---
Below are the most recent submission to our 2018 Photo Contest. We will announce the winner at the end of the contest period on social media.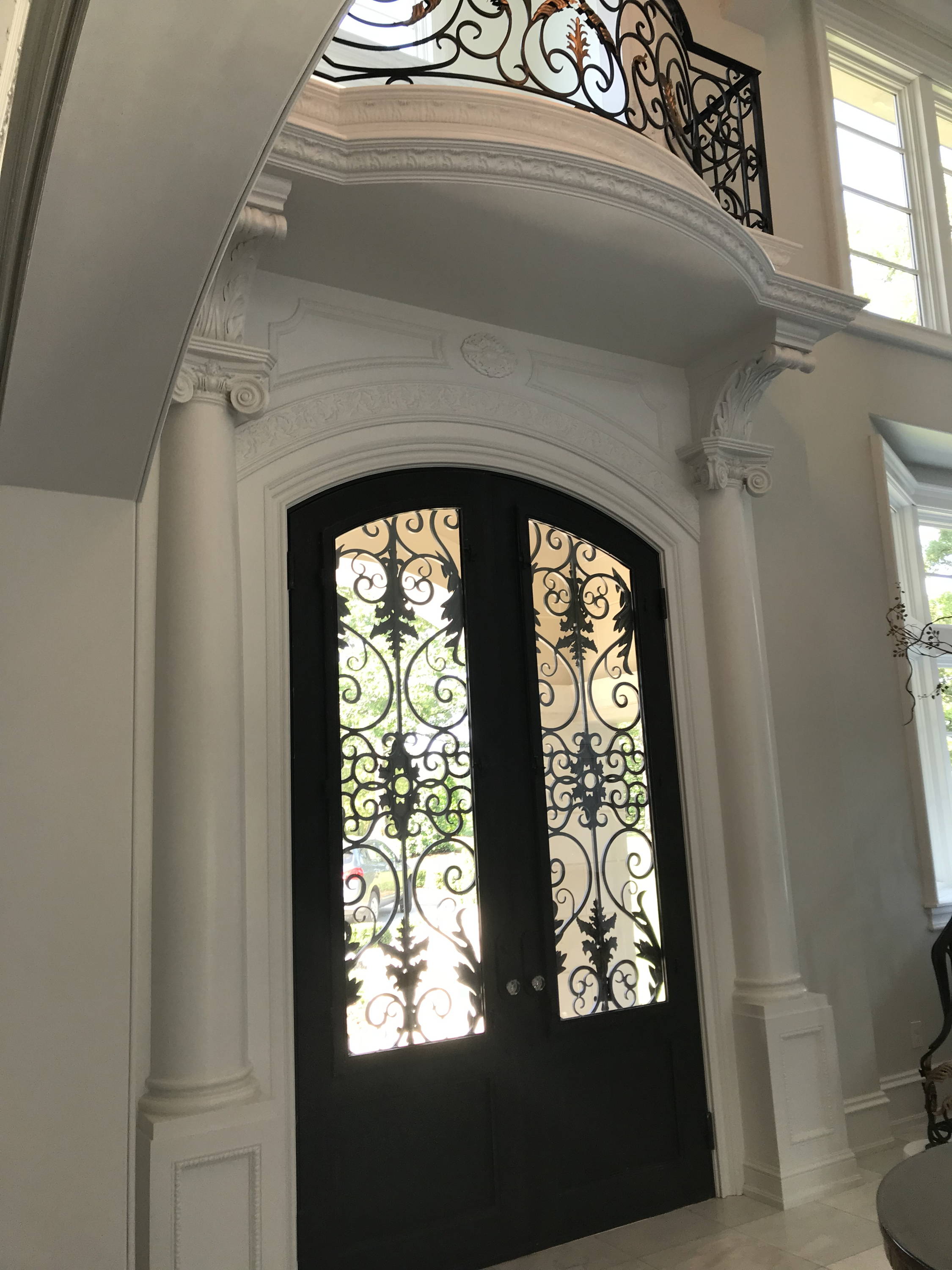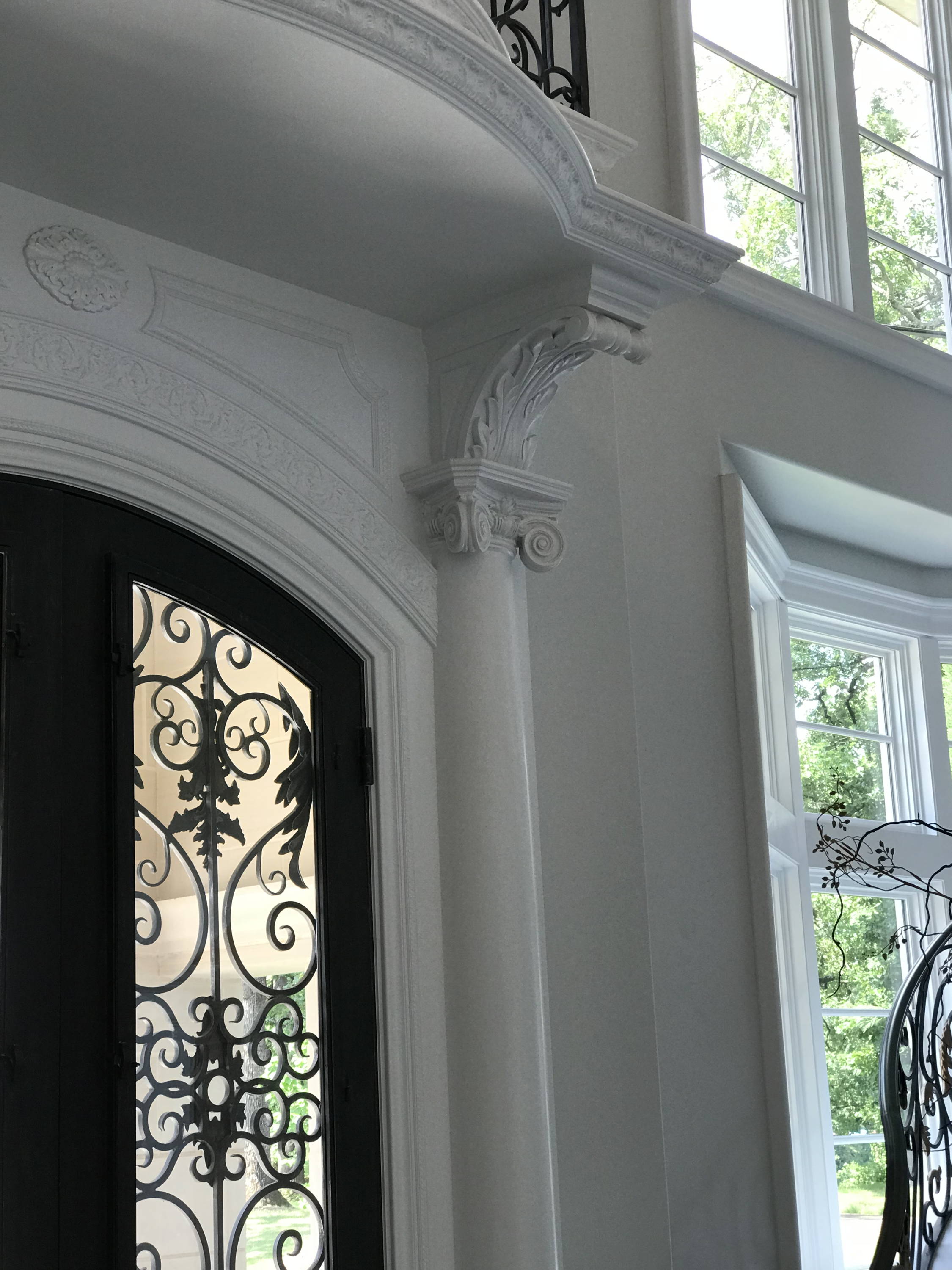 I love so many elements of the interior millwork in my home, which finished 2 years ago. My home especially needed a completely unique and grand statement for my front entrance. And I invisioned this entrance with classical motifs and asked for design help from White River. Well, to say the very least, I am just so pleased with the beautiful statement it make and my entrance deserves to be entered in a design contest for White River. The large custom acanthus corbels proportioned and handcarved specifically to support this large pediment were critical elements accomplished with such ease. Amazing! I never would have even thought of a design like this, but they did.
---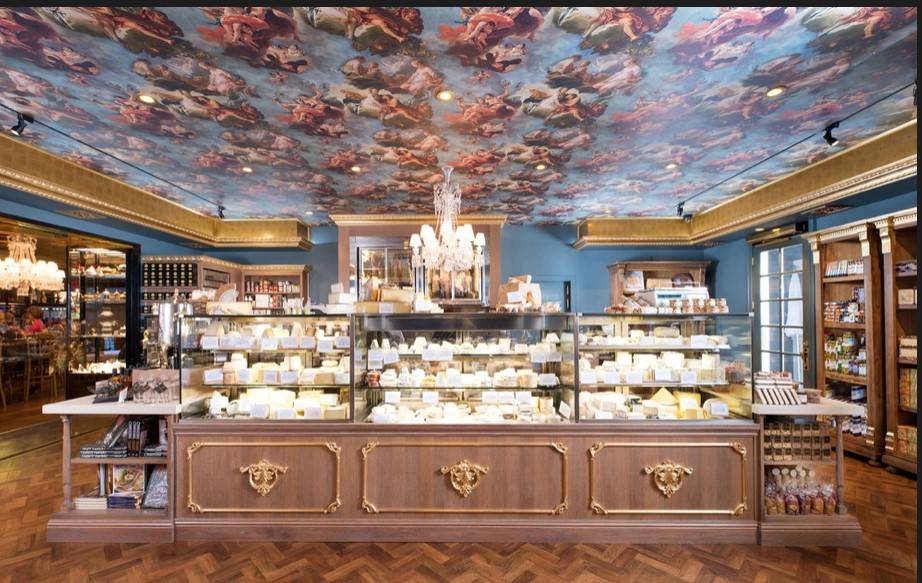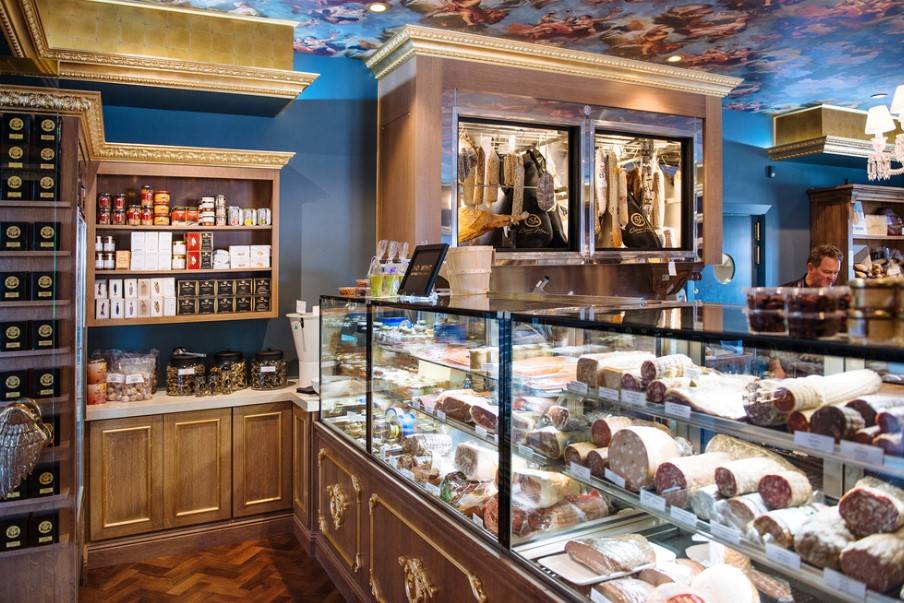 I present to you the Atelier by JCB. This is a gourmet shop featuring delicacies from France. This was part of a larger remodel and reimagined shopping complex on the main strip of Yountville, CA. We used White River Hardwood pretty much exclusively in this space. Historical influences from 17th and 18th Century France are used throughout the space and the intricate moldings we specified from WRH really made the place look spectacular.
Joshua Rowland - Principal Designer
j o s h u a + r o w l a n d + i n t e r i o r s
2653 Freeport Blvd.
Sacramento, California 95818
---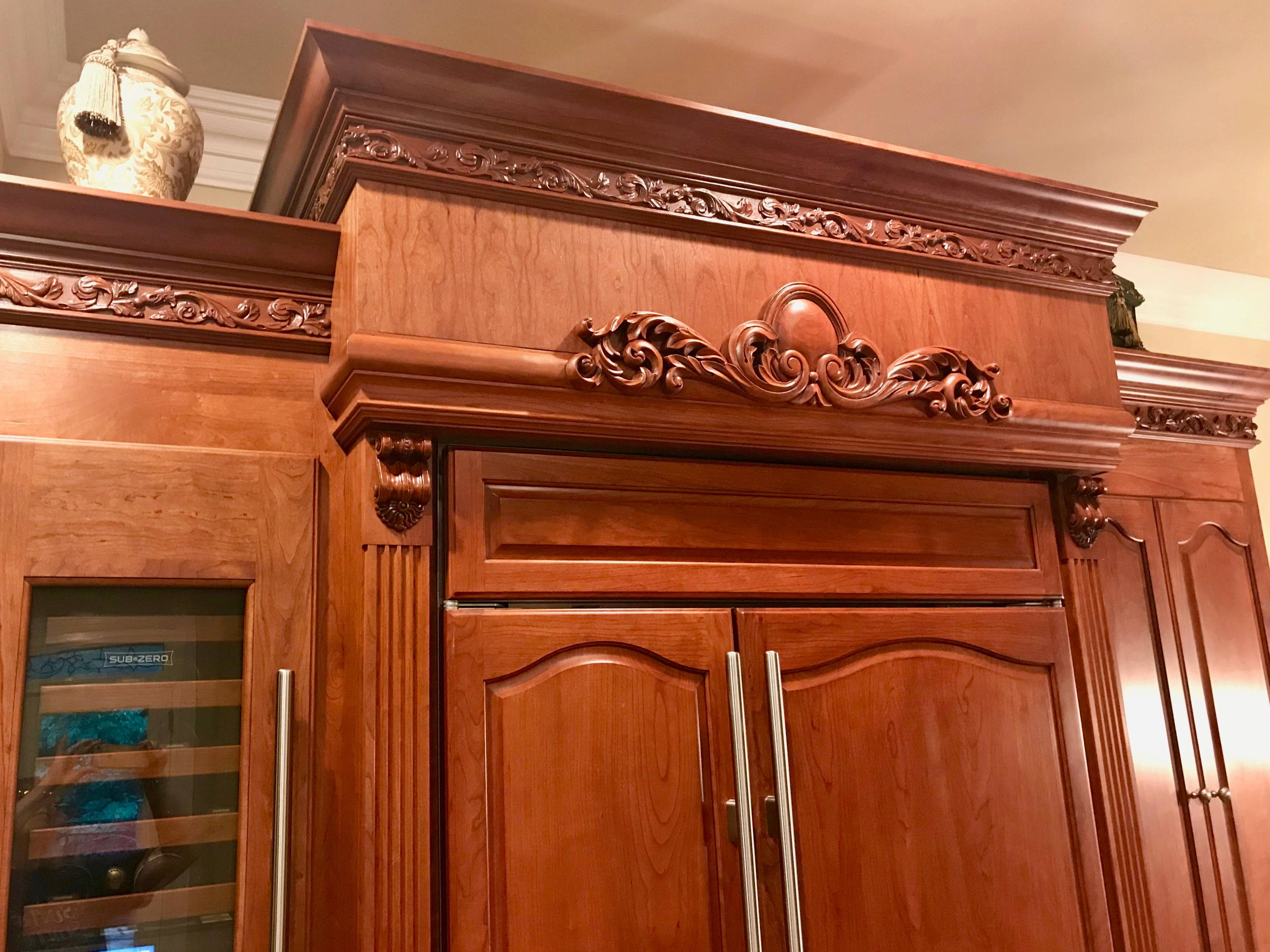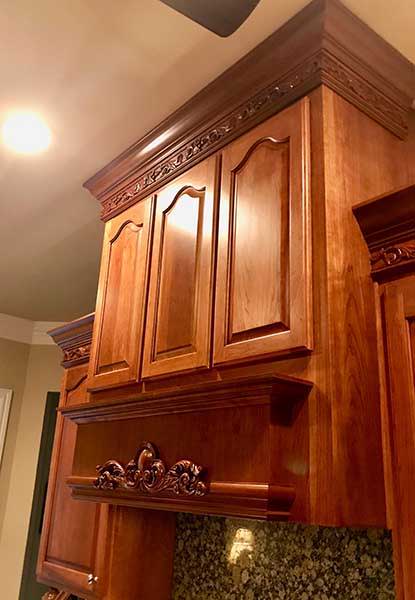 My husband and I recently remodeled our kitchen. We chose solid cherry materials, utilized the finest construction techniques, and hand rubbed old-world finishes. We absolutely love White River products and incorporated many of them in our new kitchen (acanthus scrolled apron, the scrolled corbels, and two sizes of the scrolled acanthus pediments). White River products always adds a touch of elegance wherever we use them in our home. We are so pleased with the final results and love the compliments from friends and family!
Kay Starnes
 
---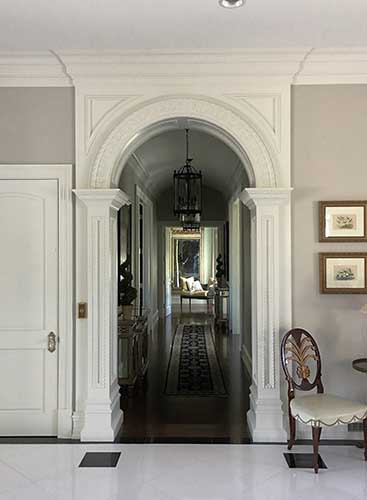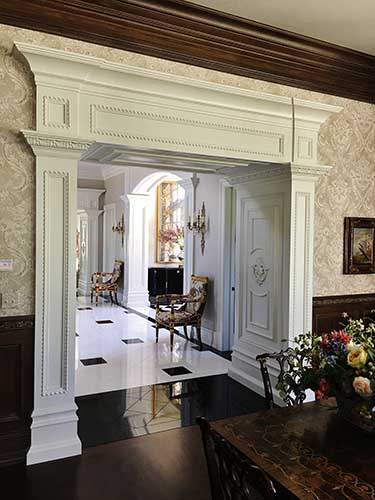 #1 - White River has great design inspiration in their catalogs and on their website. This arched opening was inspired by their photos and it is the perfect statement to frame a beautiful interior vista. Going from one room to another is generally a very boring event for me (and most people!), but crossing this threshold and walking under this beautiful arch always creates a more meaningful moment in my everyday life.
#2 "The details are not the details. They make the design." This famous design quote has always resonated with me because I see what a powerful impact even small details can make to an overall design statement. I used that design principle to take an ordinary opening to new heights, with many small details and shapes that create beauty where it wasn't before. White River's products allow for endless possibilities and combinations. They are experts in "the details!"
---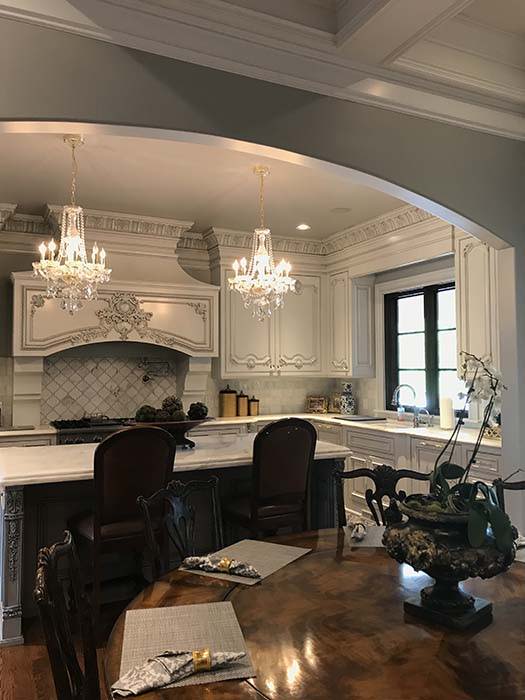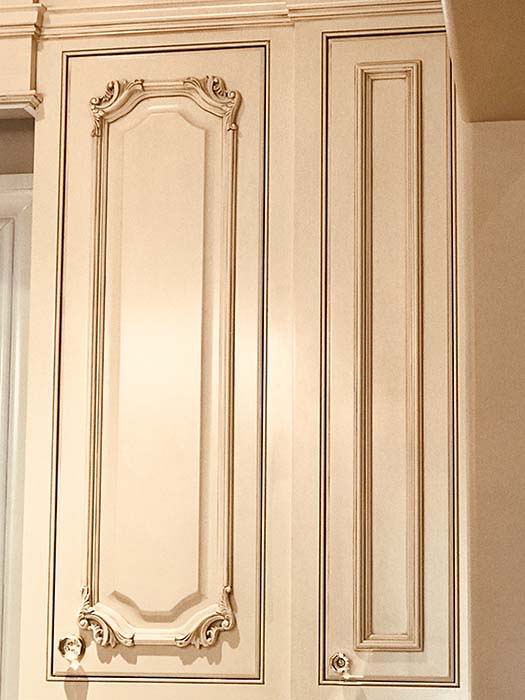 Ornate millwork has always been an absolute favorite interest of mine, and when I designed my kitchen, White River's collections made designing interesting, complex and fun. I love my kitchen! It always makes cooking extra warm and fuzzy..! and I am sure it even make the food taste better.
---
Ornate Footed Bath Tub Niche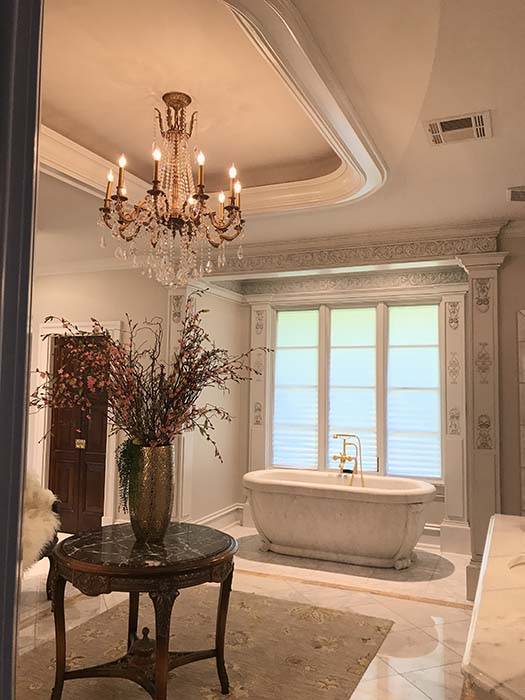 I know modern design is in right now, but not for me! In my European travels for work, I always searched out any public or private building and would bask in their beauty, proportions, and ornamentation. When I am asked ''where do you go in your home for rest or de-stressing?'' I always say "my beautiful peaceful bathtub''…. Thanks for offering a forum for bragging rights!
---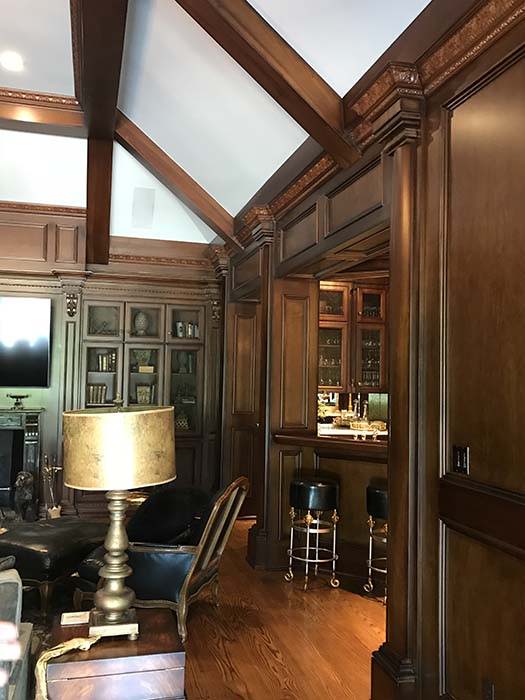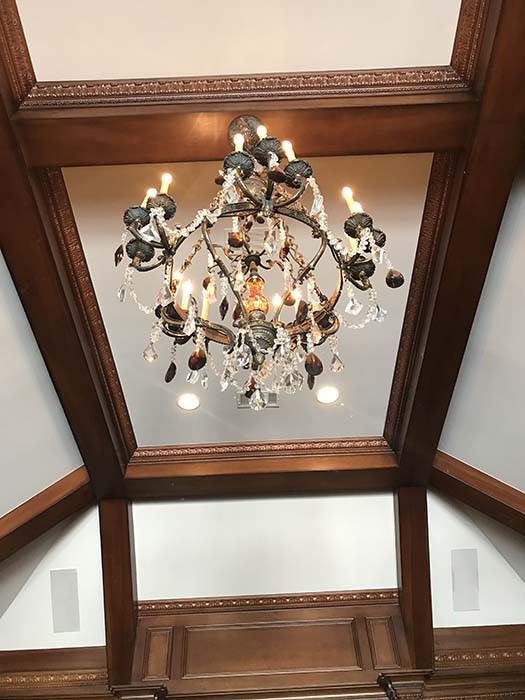 I love stained woodwork, and I never realized how much I would enjoy it, go to it, share it with friends and family. We have our best conversations and laughter in our new hearth room, it just calls to us! Even if it is just hot coffee and a good book in the early morning sunrise, in my heart, this is an architectural winner! I love it!
---
Chateau de Montaigne of Tennessee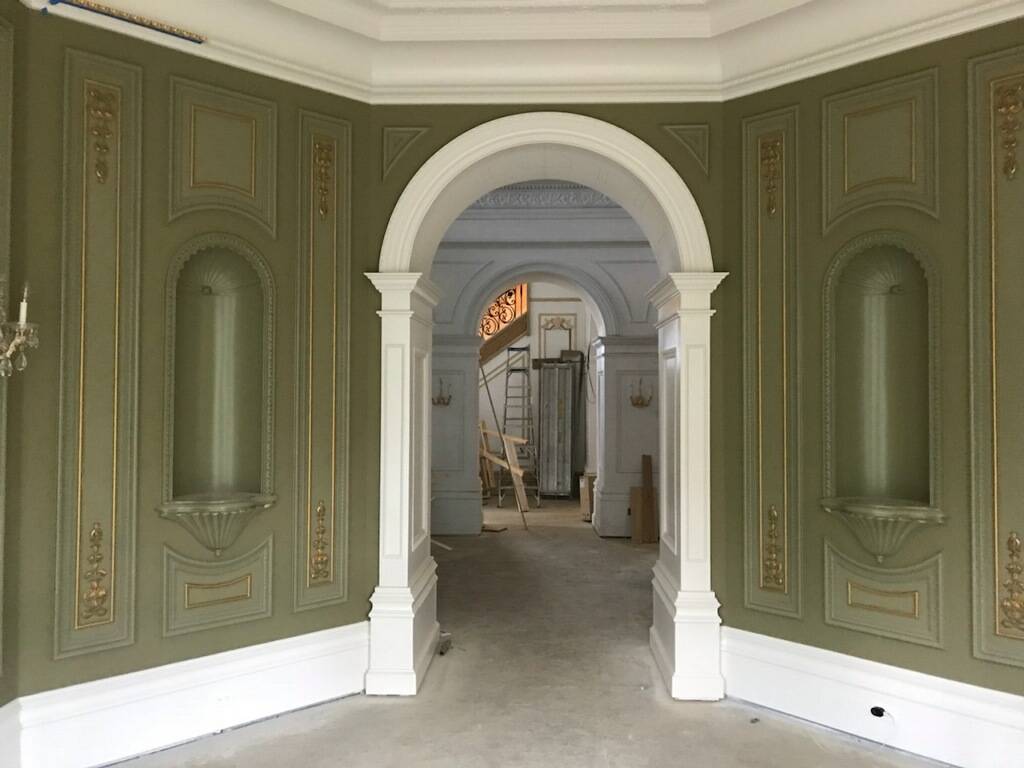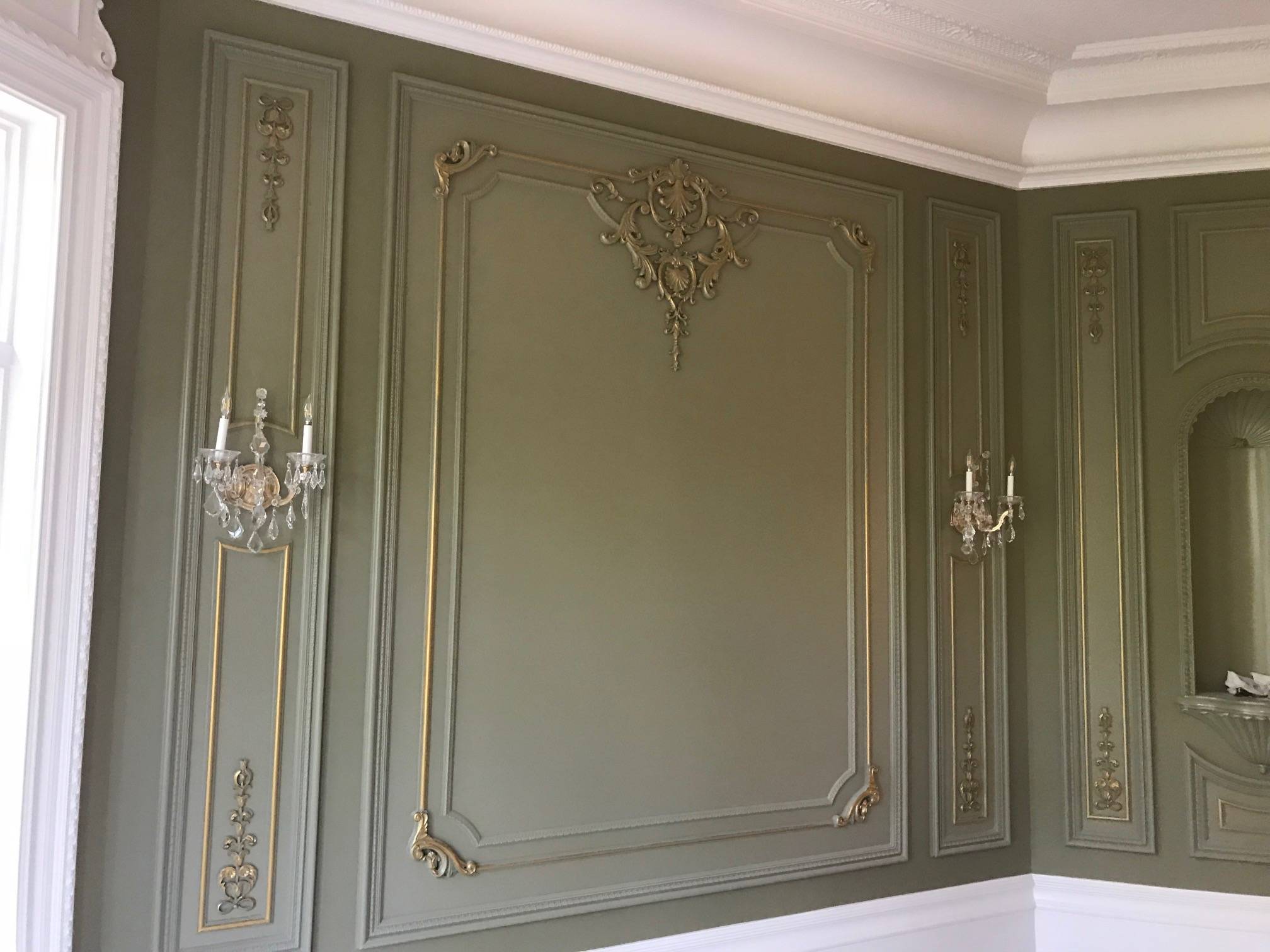 This photo is of a wall in my Dining Room at the Château de Montaigne in Tennessee. Touches of gilding highlight this stunning composition of panels containing lamb's tongue and acanthus mouldings and acanthus scrolled carvings. It's the perfect detailing for this French styled home inspired by the Château de Versailles. I'm so happy with how my Dining Room, and entire home turned out!
---
Julian & Sons - Tuscan Kitchen
Tuscan Country style kitchen in North Dakota. This kitchen has maple and cherry cabinets that were all handmade by Julian & Sons. The kitchen also has a custom butcher block, barreled brick ceilings and wrought iron window guards and White River products.  
---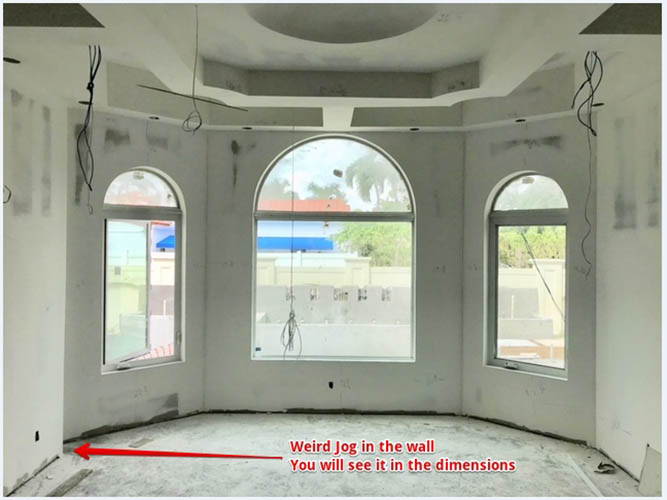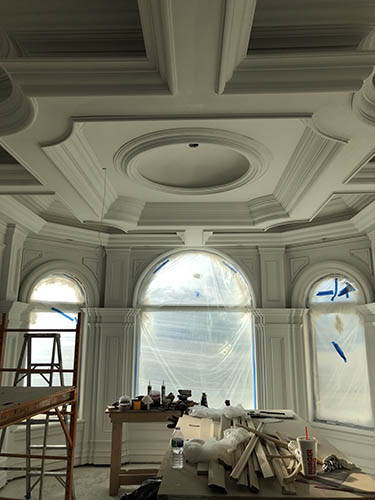 I am not even done with my project and I want to enter this wonderful photo contest! I donot expect to win, but just share my deepest LOVE of beautiful, bold and complex millwork. There are so many rooms with so many different ceiling treatments, paneled walls with woodcarvings, and really complex columns. On WR's website under catalogs, I found so many ideas I loved…and I mean I loved it in the drawn form, and now I am totally in LOVE with my home and it's wonderfully moulded interior..If the GOOD folks at WR will let me enter more photos, while my home is in this stage of being…I will send more!
Steve C of Florida
---
Old World - Dream Kitchen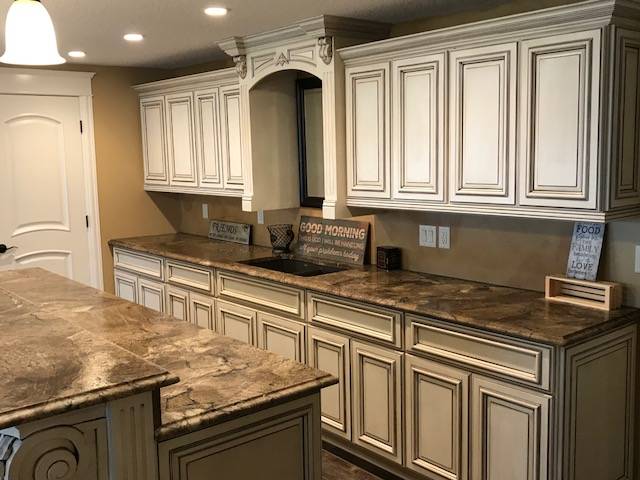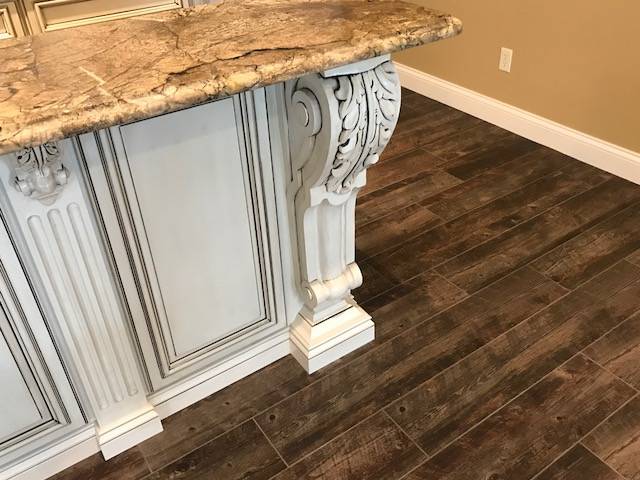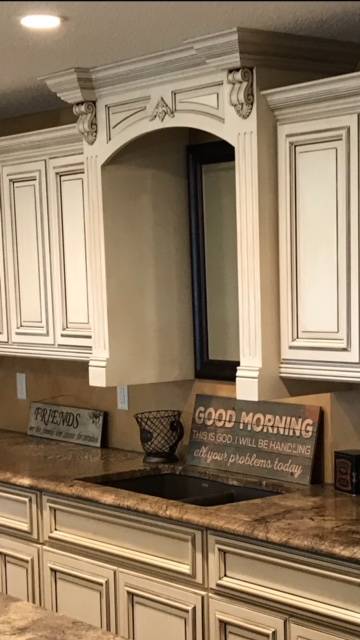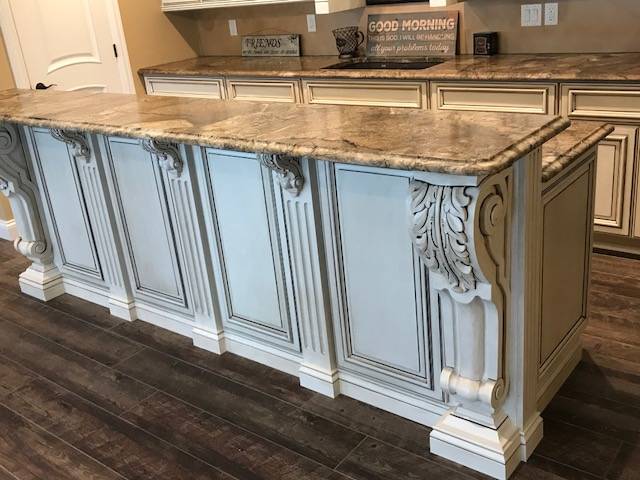 Tyron from Creative Woodworking out of OH designed this beautiful kitchen with White River corbels!
---
Deena Driscoll - Dream Kitchen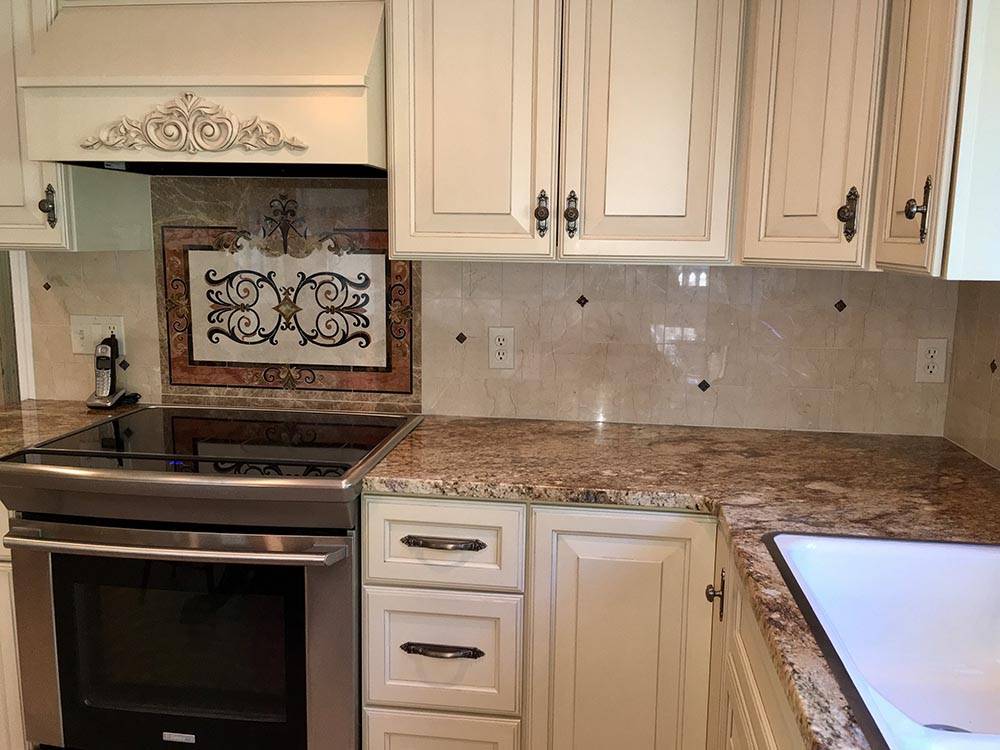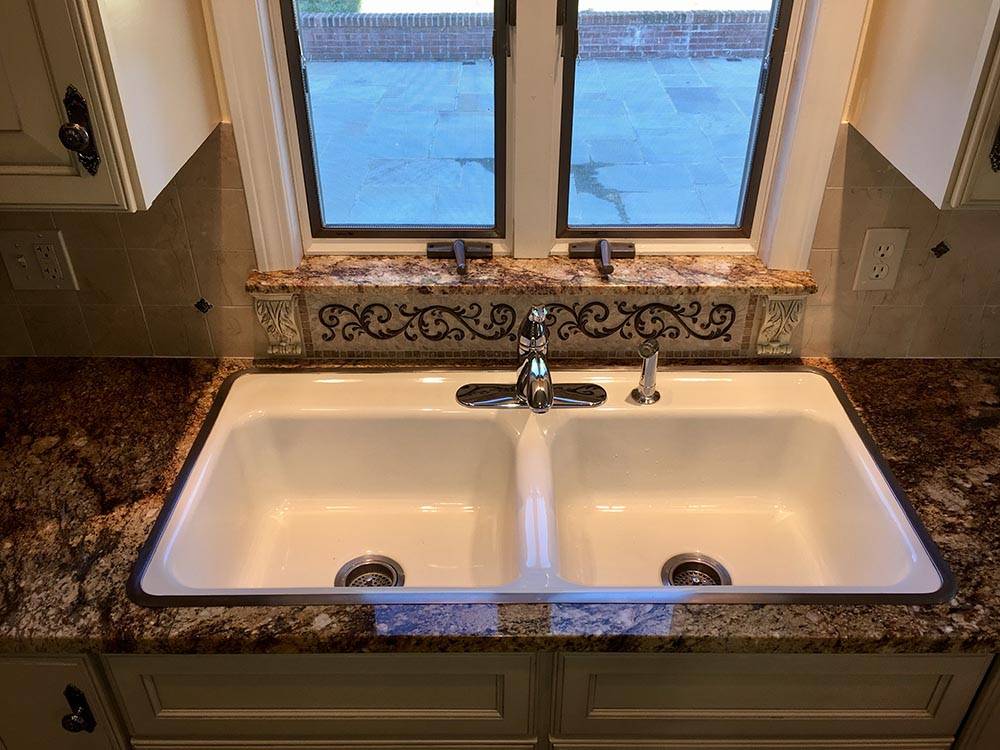 Without White River products my kitchen would never have happened as envisioned. We can't thank you enough!!!! Keep making your beautiful, high-quality products and I promise to keep finding creative ways to use them! I LOVE MY KITCHEN BECAUSE OF OUR WHITE RIVER ACCENTS and my talented carpenter. To all of the future White River customers, you will love their quality and price, but most of all, your freedom to use their products to create your own dream rooms!
 
Best Regards and Huge Thanks!
Deena Driscoll
Orange, CT
---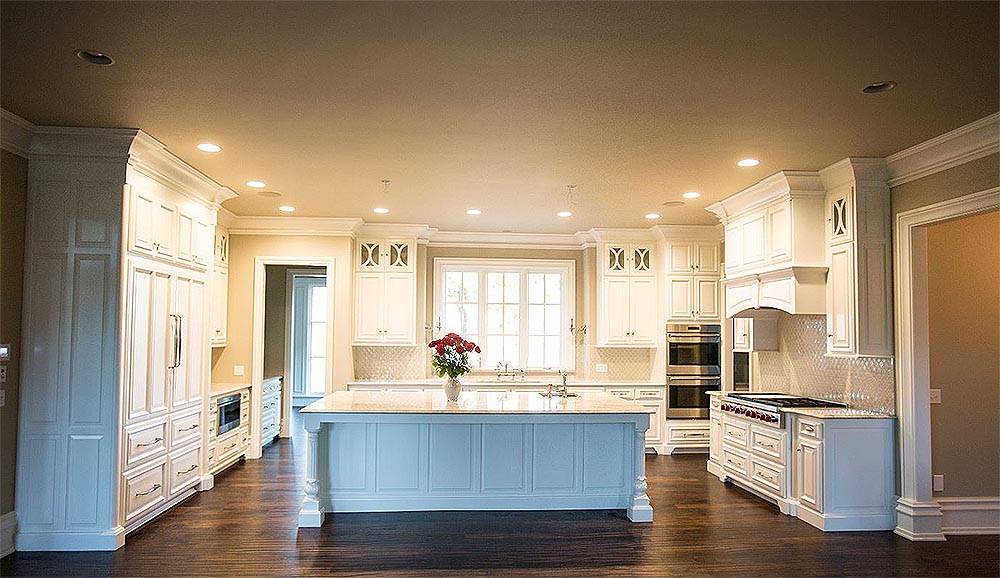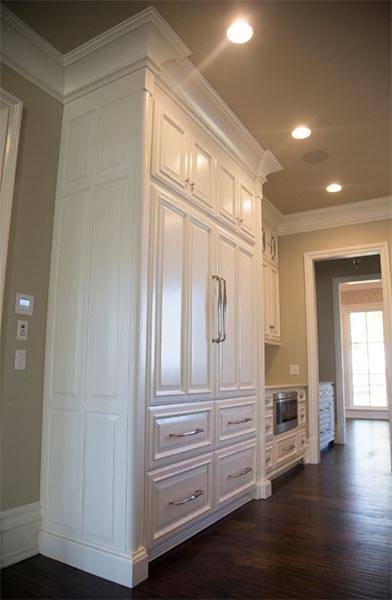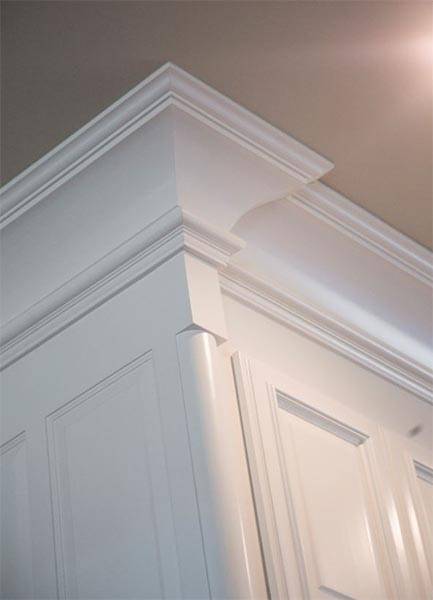 My kitchen is everything I have ever wanted. Not only does it function and clean up easily, but my cabinetry is of such quality design and construction and the simple columns and pilasters add so much to simple, but complex white cabinetry. I especially love the oversized but proportioned 8 ½'' cove ( White River's CO670) at the top of the upper cabinets with that clean crisp profile wrapping itself in and out and around the tops of all my cabinets. This was keeping with the theme of designing this large cove into other parts of my home. One thing I noticed, is White River has deep profiling and thick mouldings and I know that made a huge difference in the final look. Most coves I found were thin, flat and cheap!
Love Love Love my final kitchen..!
---
Traditional Ceiling - Mueggenborg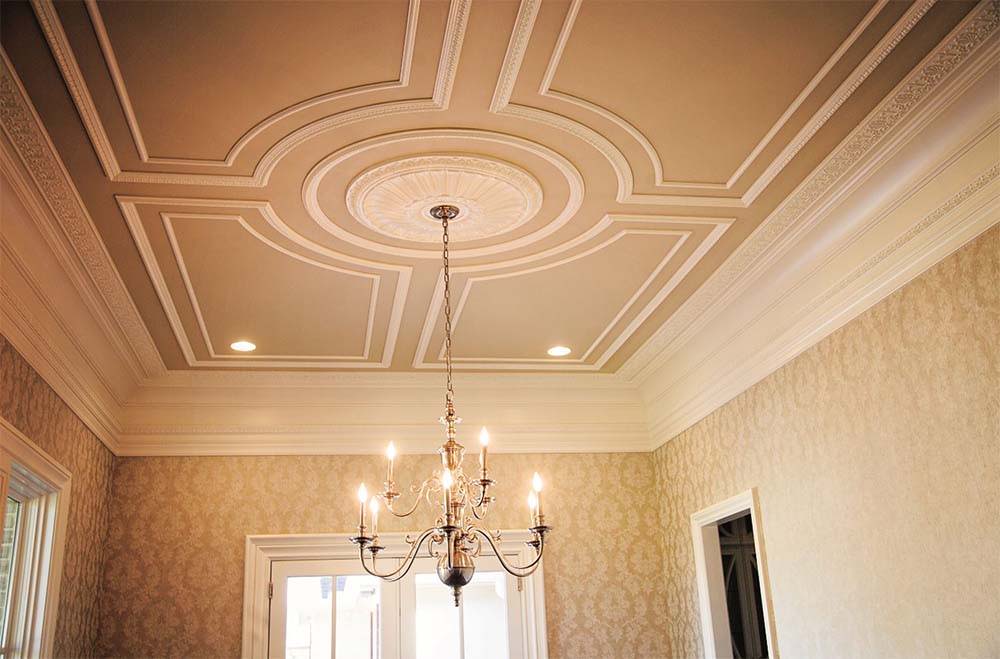 When my family gathers around the dining room table, we love being a part of not just a special room, but the paneled ceiling uplifts the gathering…we can just feel it. Classical in style, this elegant design is just perfect and I wanted to enter it into your photo contest. White River created such special spaces for our home.

Jennifer Mueggenborg
---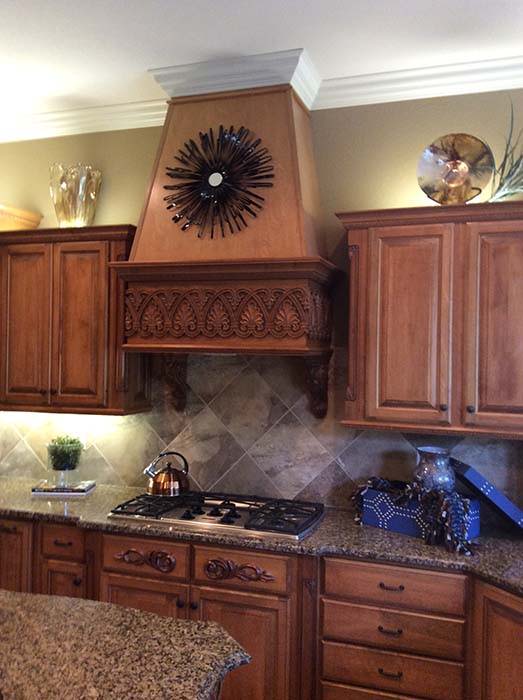 I absolutely love our range hood and think it makes a great focal point for our kitchen! I love White River Hardwoods for their vast array of millwork and woodcarvings available for the neoclassical style home we had custom built. From a wide selection of hand carved corbels, traditional and ornate, they had it all.  
---
Marion Causey, Woodworks of Indiana - Beautiful Cherry Mantel
This project started out as an unused dining room that was turned into a library/office. Had a blank slate to work with. I brought the White River V7 catalogue to a consultation and really opened the customers eyes as to what was possible. Mantle and bookcases all incorporate White River millwork.
---
4 Poster Bed Accessorized with White River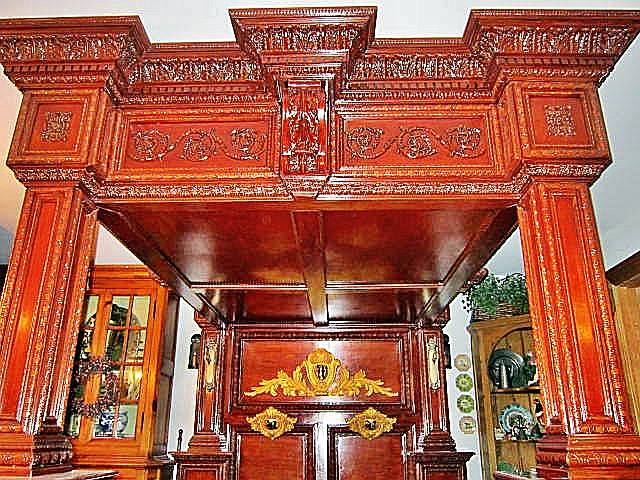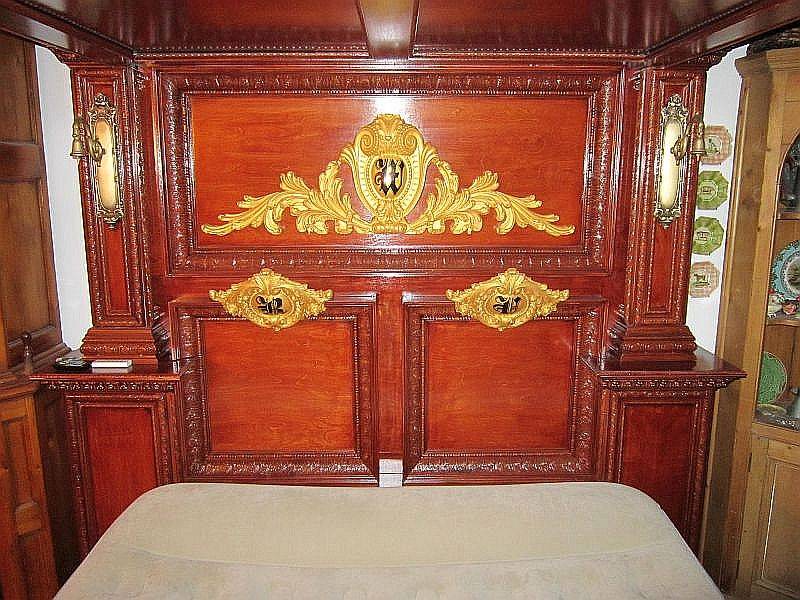 The design is fashioned after The Great Bed of Ware. A renowned English masterpiece with much history dating from about 1580. It is currently on display in the Albert and Victoria Museum in London, England. The bed took about 5 years of design, building 2 1/2 years, and finishing 1 year. The motif boasts traditional Acanthus Leaf and Dentil Moldings (CM8808) in high relief with prominent Corbels often found as French and English architectural elements.
Victor Waller
---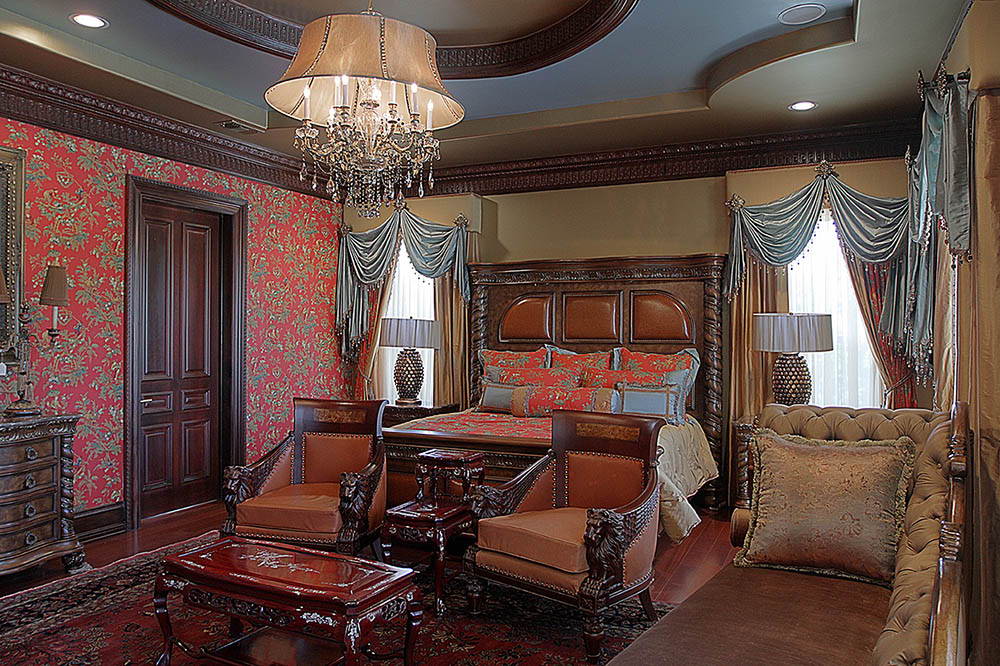 White River, you are so cool !!…..that said, I finished my home 2 years ago and still go to your site for future ideas. I even have a couple neighbors drop by to review your site and products for their homes, remodeling ideas...update their under- moulded homes! But your Mon Reale, embellished Poplar mouldings gave our home the style we desired and weren't sure how we would get it! This richly stained master bedroom is lovely and wonderful to be in. Yes…your photo contest is cool…and I love to show my appreciation. Thanks White River, you are a one-of-a-kind company!
---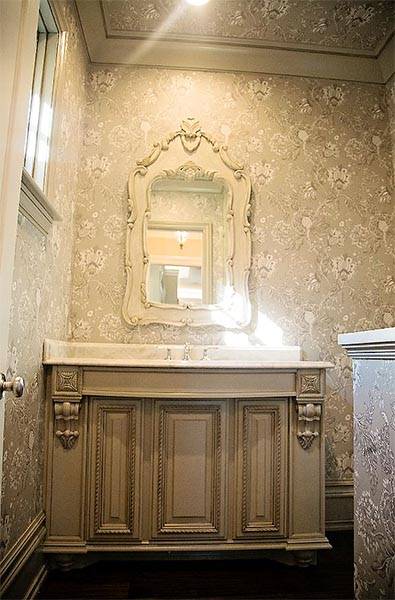 My vanity was styled after a historical photo I found and with a little help from a designer at WR, I was able to get the look and the fit I needed in this space. It always surprises my guests to have such a detailed furniture quality element in my guest bathroom.
---
Designed by Brenda Fraser, Owner Cornerstone Interiors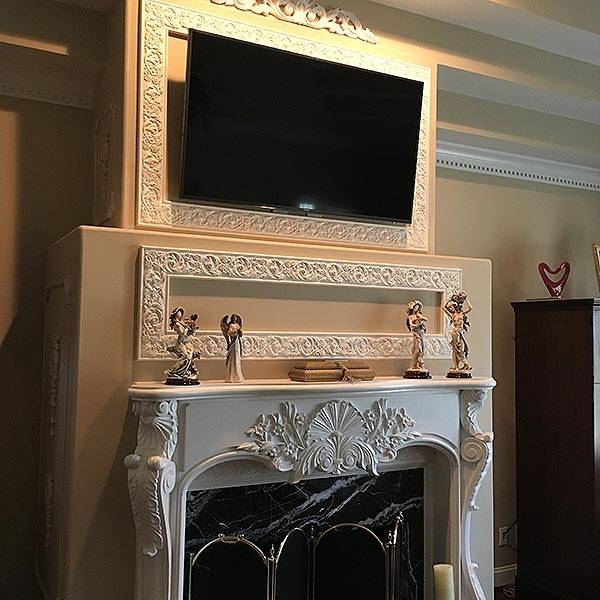 ---